About the factory
Detex Line is a full—cycle factory where high-tech equipment for retail and retail real estate is developed and manufactured. We have been working for more than 20 years. During this time, thousands of products have been released under the Detex Line brand of the same name. The main list of equipment includes anti—theft systems, shelving protection systems, sensors for counting visitors, RFID equipment, viewing mirrors.

More than 8000 m2
production areas with modern machines

Over 200 employees
Associate professors and doctors of physical and mathematical sciences in our state

22 years old
Detex Line produces modern equipment
At the moment, the Detex Line is the only manufacturer of anti-theft equipment in Russia. We invite you to visit Detex Line factory Enrolling on a tour.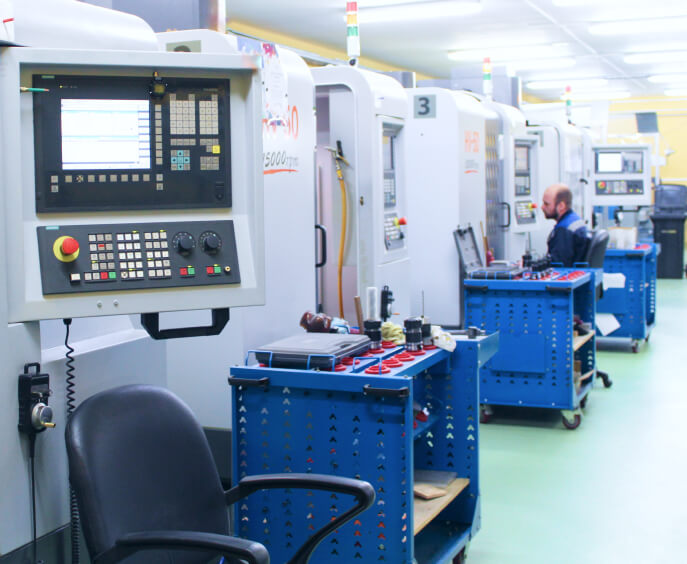 Detex Line today
More than 200 corporate employees
Production area of over 8000 m2
Work since 2003
Design and engineering department
Associate professors and Doctor of Physics and Technical Science on the staff
Integrated Product Development (case, electronics, software)
Full range of equipment for the metal and plastics units production, as well as for the electronics production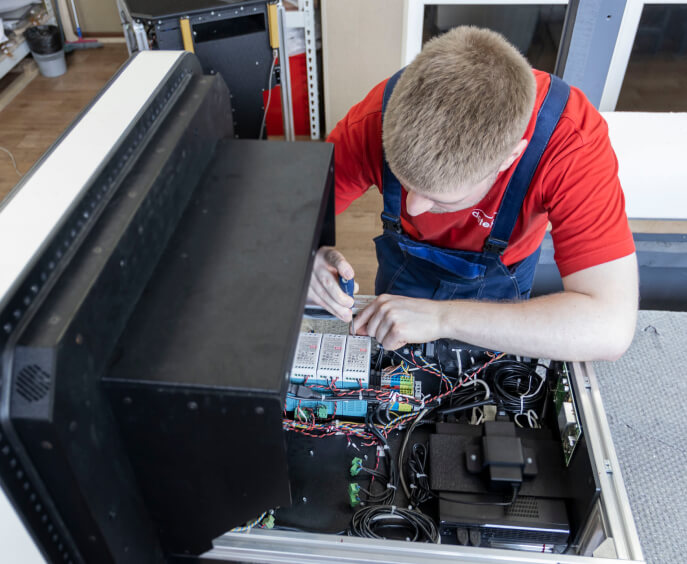 Our Advantages
Complete production cycle - from an initial concept to final sales of products
Wide range of products
Constant control of product quality
Detex Line has been producing modern equipment for trade enterprises more than 15 years
History of our factory
2019

2018

2017

2016

2015

2014

2013

2011

2010

2007

2006

2005

2004

2003
RS New Generation
The 2019 lineup of Magnum acoustomagnetic antennas gained advanced electronics RS Series, which is equipped with new functions! The systems have become more powerful, more convenient to use, and most importantly - now you can monitor its work ONLINE.
The main advantages:
Increased the range of detection up to 280 cm!
Remote access to each antenna
The system can be controlled and configured from a mobile phone
Easy integration of a classic system to a system with a metal and magnet detector!
Improved noise immunity and detection quality
Remote access - you can now follow the antennas work in real-time
New systems!
In addition to new electronics, we have released three powerful antennas: the impact-resistant and stylish Magnum Energy RS, Magnum Energy 45 RS and the Magnum Evolution RS with banner advertising!
Record year
2018 was a record year for a number of innovative developments for several retail segments at once:
- At the beginning of the year, we released the world's FIRST anti-theft antenna with video screens Magnum Cinema. It became a real breakthrough in the market of anti-theft systems. Thanks to the DetexLine developers, retailers in Russia and the CIS can broadcast a content directly at the entrance group through an anti-theft system, attracting the attention of the shopping center visitors.
- The final testing of the hidden system Invisible 3 was performed in the summer, before preparing for a high-volume manufacturing. The main advantages were the absence of visible elements at the entrance group and reliable protection of wide passages for 3/6/9 or more meters!
- The new horizontal sensors for people counting Bluetooth Smart were released simultaneously with Invisible 3. Their prime advantages are price, high accuracy of counting and integration with a regular smartphone.
- The security display system DX-20 was released in 2018. It changed the understanding of anti-theft protection in electronics stores. The DX-20 combines all the important features that retailers needed: easy installation, protection and charging of products with one device. A stylish design draws visitors ' attention to electronics.
Rstat Stereo 3D
The market of people counting systems reached a new level after Rstat Stereo 3D sensor release. Thanks to the powerful processor, the sensor can accurately identify hundreds of people, located in the counting zone, build heat maps, determining the the " hottest " ways and customer loyality. The counter has a built-in WiFi module that collects Mac addresses of mobile devices,. This information can be used to determine uniqueness and customer loyality of a shopping facility.
Protection from professional theft
In early 2016 we finished the testing of the acoustomagnetic systems with built-in metallomagnetic detection. This made possible to present to the market a real protection solution from professional theft using the definition of foil bags and deactivators, without using an additional stands on the entrance group.
The serial production of Magnum Ultra anti-theft systems for cashdesks began In March.
Updated anti-theft protection
The new anti-theft protection products were releasing actively that year. The design engineers have created a number of new advanced equipment, which immediately, after launch, pleased the world's leading brands.
A line of Detex Line deactivators was released in March. It received a lot of positive feedback from customers that year. One-time deactivation of all tags on products, intuitive using and detecting sensors in the one equipment allowed to increase the speed of service in stores and eliminate false allarms with bona fide buyers.
In July, we varied the line of anti-theft systems with two systems made of thin acrylic -Crystal and Magnum 100. In creating these antennas, we placed greater focus both on a protective function, and also on an exclusive, lightweight design that is so necessary for our customers.
Autonomous FreeStand
With the active introduction of new smartphones and tablet PC, we introduced the Russian Autonomous security display FreeStand to the world, designed to electronics' protection. The New stand allowed many retailers to present their products in that part of the store where it's necessary without complex installation, drilling and damage of racks. We took into account both the security functions of the equipment, and also aesthetic benefits for the promotion of protected electronics. We made the sensors ergonomic and convenient when holded in the hand, and the stands are suitable for the modern style of stores.
It's just the start
The number of employees reached 150 people in 2013, and now 200 people have a job at the plant. Of these, there are associate professors and professors of physical and technological Sciences, highly professional designers and technologists, as well as competent specialists in various fields of production.
Today the production area of the plant exceeds 6000 square meters, the plant is furnished with state-of-the-art equipment. The modern equipment is used in the various workshops, including Metal machining centre, injection molding machines, vacuum deposition machines, paint-spraying booth and workshop, turn-milling machines, vacuum forming machines and much more.
3D advertising technologies
New Year's eve, December 29, 2011, the plant's designers submitted for approval Magnum 50 system with an integrated advertising 3D banner. This development caused a sensation on two markets simultaneously in 2012 – the market of acousto-magnetic systems and the market of advertisment on anti-theft systems.
New production complex
That year the plant started with innovations of a large scale. The decision to expand the factory premises was accepted, and the new production complex was opened in Serpukhov, Moscow region. By the end of the year of its successful operation its territory has expanded up to 2500 sqm., and the production figures increased significantly. The new high-technology machine-tools of imported production put in service, the quality management system was established. The factory produces only high-quality products that additionally undergo the bench tests and just after that the products go on sale.
Protection of mobile electronics
The mobile electronics market was becoming seriously transformed. At the time of the first smartphones with touch screen release a high development of mobile phones retail sales began. Many stores were starting to forego the classic mobile phones trading hidden in glass cases and to exhibit the goods on open access.
Detex Line presented security display proprietary solutions to the market. A comprehensive range of goods range for protection of various product groups were introduces to the market at one stroke, starting from mobile phones to televisions, power tools and small appliances.
According to Detex Line factory's traditions this product had (and still has) unique consumer appeals, for example unsurpassed up to now anti-theft protection technology.
Acousto-magnetic breakthrough
Detex Line started a production of acousto-magnetic anti-theft systems. This fact has seriously undermined attitudes of Western companies represented in the AM anti-theft systems market.
It should be noted that in 2006, only the case and part of electronics were of our production. However Detex Line engineers continued a development is in progress. So the line of acousto-magnetic anti-theft systems of 100% our own making was introduced a little later.
New market is people counting
Detex Line entered the new markets. The Development was completed. A production of the first real locally produced people counting systems for retail facilities was got into production officially . These were simple at first glance wired IR sensors and the recorder is connected to a PC, but even then they were enclosed unique author's developments of Detex Line engineers. improving the accuracy of user counting and ensuring an unprecedented guarantee of data security. The Registrar Detex Line to date, it is the most secure among all wire counting systems from the point of view of data security and guarantees uninterrupted operation in most emergency situations.
We can safely say that with Detex Line, the market for counting visitors received a new surge-technological, since then the race for the accuracy of the calculation, which was started by our own development of Detex Line.
Unique inventions
We presented the recent development, the world's first unique anti-theft system with an advertising space, which was named Detex Line Logo.
This anti-theft system has become an embodiment of high quality of Detex Line equipment. Since 2004 and by this day, Detex Line Logo system is one of the most popular system on the domestic market. It is impossible to count the number of stores that selected this equipment as a safety standard and as a design element of entrance group. Today these systems protect stores against thefts in every shopping center in Russia.
Our design department was established simultaneously with the appearance of a unique new product.
How it all began
The well-known brand "Detex Line" needs no introductions on the domestic market. So far, Detex Line is the only manufacturer of anti-theft equipment in Russia, that went into business in 2003.
In 2003, Detex Line design engineers developed our own production equipment, which provided a serial production of safety mirrors 430 mm, 510 mm ,610 mm, 6200 mm, 950 mm. These were the initial successes on the domestic market. We were not ready to rest, and in a year, September 9, 2004, the three-axis-controlled machine was brought into operation. The results were not slow to arrive. The first radio frequency Russian-made anti theft system was presented officially after only five days . It was an innovative BASE model known for its high reliability and availability to this day.